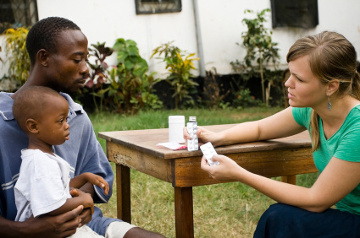 Wolontariat bywa też zawodem
fot. iStockphoto
Wolontariat cieszy się ogromną popularnością przede wszystkim na Zachodzie, jednak możliwości udzielania dobrowolnej pomocy nie brakuje również w Polsce. Do wyboru mamy nie tylko pracę w hospicjum czy muzeum, ale również bardzo modny ekowolontariat bądź wolontariat turystyczny, wiążący się z odwiedzaniem obcych krajów.

Krótkie wyjazdy zagraniczne, zwłaszcza do tak egzotycznych miejsc jak Brazylia czy Nepal, są zawsze ogromną atrakcją dla osób chcących się zaangażować w wolontariat turystyczny. Choć za udział w projektach nie otrzymuje się wynagrodzenia, a czasami trzeba wręcz dopłacić, na miejscu zaś uczestnicy wykonują nieraz ciężką pracę, wrażenia są niezapomniane, a poczucie satysfakcji – niezastąpione.

Zobaczyć kawałek świata, a przy tym zrobić dobry uczynek – brzmi nieźle, jednak dla niektórych to za mało. Niesienie pomocy w odległych zakątkach kuli ziemskiej może stać się stałym zajęciem, jeśli zgłosimy się do jednej ze znanych i poważanych organizacji polskich lub międzynarodowych, jak Lekarze Bez Granic czy Polska Akcja Humanitarna.

Nie mamy wówczas zwykle możliwości wyboru kraju, który chcemy odwiedzić czy terminu wyjazdu – należy wysłać zgłoszenie i cierpliwie czekać na wolne miejsce. Misje trwają zwykle od 6 miesięcy do 8 lat, na miejscu otrzymujemy jednak stałą pensję, ubezpieczenie i zwrot kosztów utrzymania. W takich krajach jak Sudan, Palestyna czy Kambodża potrzebni są głównie specjaliści, na przykład lekarze czy inżynierowie, jednak wszyscy chętni do pomocy mogą się przydać przy organizowaniu projektów edukacyjnych, prowadzeniu biura czy podziale żywności.

ONZ pomaga

Jedną z największych organizacji międzynarodowych jest United Nations Volunteers działająca w ramach ONZ. Począwszy od 1971 UNV mobilizuje co roku ponad 7, 5 tysiąca ochotników z całego świata do pomocy przy akcjach podejmowanych w ponad 100 różnych państwach, przede wszystkim w tych biednych i rozwijających się. Między innymi pomagają oni w organizowaniu i przeprowadzaniu lokalnych wyborów i wspierają szereg pokojowych projektów humanitarnych. Duża część akcji UNV obejmuje przede wszystkim działalność edukacyjną, promującą pokój, demokrację i współpracę sąsiedzką.

Wolontariusze muszą mieć ukończone 25 lat, jednak średni wiek osób angażujących się w działalność tej organizacji wynosi 37 lat. Gdy ochotnicy wyjeżdżają na misję, mogą zabrać ze sobą swoją rodzinę i liczyć na pensję w wysokości około 1 600 dolarów miesięcznie oraz ryczałt na podstawowe opłaty, na przykład gaz. Ponieważ zostają ubezpieczeni w renomowanym konsorcjum Van Breda, w razie choroby lub wypadku są natychmiast ewakuowani do kraju, w którym mogą otrzymać profesjonalną opiekę medyczną. Praca dla UNV oznacza więc zwykle długoterminowe zaangażowanie w działalność charytatywną.

Leczyć bez granic

Médecins Sans Frontières to międzynarodowa organizacja, założona przez francuskich lekarzy w wierze, że wszyscy ludzie mają prawo do opieki medycznej i że jest to prawo naturalne ważniejsze niż granice państwowe. Lekarze bez Granic już od 40 lat ryzykują życiem, by udzielać pomocy medycznej w rejonach objętych działaniami wojennymi, dawno opuszczonych przez przedstawicieli innych organizacji, jak Międzynarodowy Czerwony Krzyż. Pomagają również w walce ze stałymi zagrożeniami, głównie endemiami takimi jak malaria. Na forum ONZ wielokrotnie protestowali oni przeciwko zbrodniom wojennym w imieniu ludności pozbawionej własnej reprezentacji, na przykład mieszkańców Kosowa.

Ogromny wysiłek został włożony przez lekarzy z MSF chociażby w pomoc uchodźcom czeczeńskim, mieszkającym w obozach w Inguszetii. Następnie kontynuowali oni prowadzenie działalności medycznej w Czeczenii, choć przebywający tam cudzoziemcy są bezustannie zagrożeni porwaniem. Ich działalność zdołała jednak pokryć zaledwie około 40% potrzeb tamtejszej ludności.

Duża część misji MSF obejmuje pomoc krajom Trzeciego Świata. Na przykład w 2005 roku Lekarze Bez Granic wyleczyli w Nigrze 63 000 dzieci cierpiących na ostre niedożywienie, zwracając jednocześnie uwagę całego świata na problem nieskuteczności akcji podejmowanych przez ONZ w tym kraju oraz brak finansowania programów pomocowych.

Lekarze Bez Granic otrzymali za swe działania wiele wyróżnień, wśród których największym sukcesem była Pokojowa Nagroda Nobla w 1999. Choć praca w MSF może wydawać się ciężkim kawałkiem chleba, czy jest lepszy sposób by wypełniać przysięgę Hipokratesa?

Polacy też działają

Nasi rodacy również dokładają sporą cegiełkę do dzieła światowego wolontariatu, nie tylko w ramach polskich oddziałów zagranicznych organizacji. Równie imponująca jest chociażby różnorodna działalność Polskiego Centrum Pomocy Międzynarodowej, pomagającego ludziom dotkniętym skutkami zarówno konfliktów zbrojnych, jak i klęsk żywiołowych.

PCPM od 2005 roku realizuje rozmaite projekty humanitarne, edukacyjne, rozwojowe i techniczne w Afryce, Azji Środkowej oraz innych regionach świata. Budowa i remont szkół w Sudanie, Zambii i Tadżykistanie, pomoc medyczna w Gruzji czy próby rozwoju obszarów wiejskich poprzez podnoszenie wydajności rolnictwa w Palestynie i Tanzanii – to tylko niektóre z akcji podejmowanych przez polskich pracowników i wolontariuszy.

Obecnie uwaga PCPM skierowana jest na Libię, gdzie rewolucja i prowadzane działania wojenne doprowadziły do pogorszenia się sytuacji humanitarnej. Do bieżącej działalności organizacji zaliczyć można również trwający od 2010 roku projekt elektryfikacji wsi w Południowym Sudanie, którego efektem już teraz jest założenie oświetlenia w 152 domach, 2 przychodniach, szkole, internacie i w miejscach publicznych takich jak bazar.

Uczynić świat lepszym

Ogromne sukcesy na koncie ma założona w 1994 roku przez Janinę Ochojską Polska Akcja Humanitarna. Organizacja ta zbiera pieniądze i przeprowadza zakrojone na szeroką skalę akcje mające na celu pomoc zarówno dzieciom (Program Pajacyk), jak i mieszkańcom najbiedniejszych krajów (Woda dla Sudanu, misja edukacyjna w Afganistanie), a także uchodźcom i repatriantom na całym świecie.

Wolontariuszem może zostać każda osoba pełnoletnia, która identyfikuje się z misją PAH brzmiącą: "uczynić świat lepszym przez zmniejszenie cierpienia i niesienie wartości humanitarnych". Z organizacją współpracują przede wszystkim studenci, ale także specjaliści – prawnicy, finansiści, graficy, tłumacze. Ponieważ PAH na razie ma swoje siedziby jedynie w Warszawie, Krakowie i Toruniu, głównie mieszkańcy tych miast mogą angażować się w działalność organizacji.

Wyjazd na kilka lat, gdzieś w głąb Afryki, codzienna ciężka praca i obcowanie z ludzkim cierpieniem – to ogromne wyzwanie, któremu nie każdy będzie w stanie sprostać. Nie ma co ukrywać, wolontariat zawodowy wymaga wielkiej siły charakteru, wytrwałości i energii, a także rozmaitych zdolności, na przykład organizacyjnych. Nie bez znaczenia jest również znajomość języków obcych i sytuacja finansowa, ponieważ zaangażowanie w daną misję często wymaga poświęcenia własnych funduszy.

Wolontariat zawodowy nie jest czymś, czego warto się podejmować tylko dlatego, że nie wiemy co zrobić ze swoim życiem. Jeśli jednak czujemy prawdziwe powołanie, nie ma co się wahać. Jest to niesamowita przygoda, która gwarantuje taką satysfakcję z pracy, jakiej nie spotkamy w żadnym innym zawodzie.

Źródło: Wolontariat zawodowy, z serwisu Portal podróżniczy