[img="//oh/zx/pbw4pqocg0o04wcowkkc4wg808k.*kadr*.JPG" alt="Cypr to 600 km wybrzeża" width="700" height="480"][/img]
Cypr to 600 km wybrzeża. Fot. Ola Klimowicz
Dwa światy w Pafos

W miasteczku mieszka niespełna 50 tysięcy Cypryjczyków. W okresie wakacyjnym liczba mieszkańców drastycznie wzrasta – prawdopodobnie jest tutaj dwa razy tyle turystów. Miejscowość dzieli się na dwie części: w Kato Pafos znajdziemy port, dzielnicę handlową i wykopaliska archeologiczne, a w Ktima Pafos – śródmieście. Port jest wyjątkowo malowniczy i znaleźć w nim można taką atrakcję jak łódź ze szklanym dnem, która dopływa do pobliskiego zatopionego wraku. Jest też pełno tawern i kafejek, jednak nie należy tu jeść – większość restauracji przy porcie podaje mrożone pizze lub zapiekanki, i to jeszcze w wysokich cenach. Jedyne co warto, to wypić w którymś z tych przybytków świeży sok lub zjeść deser i poprzyglądać się jak starsi panowie grają w tradycyjne tavli.

Niedaleko od portu znajdują się przypadkowo odkryte wykopaliska. Pozostałości wielkiego miasta z czasów rzymskich można zwiedzać (wstęp to koszt 3,40 euro). Trzeba się tylko przygotować na spacer po dość rozległym terenie, w dodatku w pełnym słońcu, bo niewiele tu drzew czy budynków, gdzie można chwilowo odpocząć. Choć dla zwiedzających udostępnionych jest kilka starożytnych budowli, to jednak najciekawsze są mozaiki odkryte przez polskich naukowców w 1963 r. Teraz znajdują się one pod zadaszeniem, aby chronić je od słońca i piachu.

Dziś budowla jest w ruinie, ale i tak robi spore wrażanie – mowa o Saranda Kolone, bizantyjskim zamku, znajdującym się również w Pafos. Składał się niegdyś z 40 potężnych kolumn, o czym przeczytać już możemy jedynie w przewodniku. Ciekawe są też Grobowce Królewskie, które powstały w czasach hellenistycznych. Choć wiele z nich się zachowało, zostały prawie doszczętnie zrabowane.

Są co najmniej dwa powody, dla których warto przejść się dzielnicą Moutallo w Ktimie. Jest to turecka część miasta, stąd jej odrębność, czego widomym znakiem jest znajdujący się tamtejszy Wielki Meczet. Po drugie – to tam można zjeść najlepszy kebab po tej stronie wyspy.

Przylądek Lara – cypryjskie Galapagos?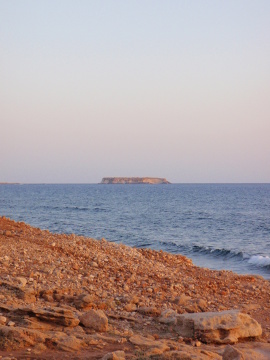 fot. Ola Klimowicz
Po niezapomniane wrażenia jeździ się na Przylądek Lara, 28 kilometrów od Pafos. Są tu dwie rozległe plaże i kawiarenki, ale najlepiej zawitać tutaj późnym wieczorem. Wtedy ciekawskim oczom ukazuje się niesamowity widok: na plaży pojawiają się dziesiątki żółwic składających jaja lub widać jak wykluwają się żółwiki. Trzeba pamiętać o wyłączeniu flasha, bo każda, nawet najmniejsza wiązka światła może zaniepokoić zwierzęta. Na przylądek najlepiej dostać się samochodem, warto zaplanować trasę jeszcze przed wyruszeniem. Wiem, co mówię! Na Cyprze nie ma wielu znaków, które pomagają w odnalezieniu drogi. W połowie podróży zboczyliśmy z trasy i jechaliśmy przez kilometry wertepów, aż utknęliśmy na drodze. Wtedy, jakby znikąd, wyrosło na niej stado owiec. Nie udało nam się niestety zobaczyć żółwi, ale zachód słońca oglądany z urwiska nad plażą, był równie cudowny.

Limassol – wino, muzyka, śpiew

Kolejnym rejonem Cypru wartym uwagi jest Limassol. Miasto składa się z wielkiego portu i Starego Miasta. Cypryjska Organizacja Turystyczna organizuje jego bezpłatne zwiedzanie, z czego warto skorzystać. Na Cyprze Limassol uchodzi za stolicę wina. Czy tak jest w istocie, można przekonać się przy ulicy Roosevelta, gdzie wyroby czterech najsławniejszych producentów wina czekają na śmiałych degustatorów. To dlatego lepiej przyjechać tutaj taksówką.

Zwiedzać można też winnice, ale w sezonie wycieczki trzeba rezerwować wcześniej, bo cieszą się dużym zainteresowaniem. Prawdziwym miłośnikom tego trunku spodoba się też Święto Wina, które odbywa się we wrześniu w Ogrodach Miejskich. Te ostatnie stanowią dobre schronienie przed cypryjskim żarem, rośnie w nich wiele drzew spotykanych tylko w cieplejszych krajach. Dzieciom spodoba się tam też niewielkie zoo.

W Limassol znajduje się kilka barów i klubów w pasie hotelowym nad morzem. Poza sezonem są one jednak zamknięte, ponieważ miejscowi imprezują w centrum. Zjeść można tak naprawdę wszędzie – miasto żyje z turystów – ale najlepsza jest zdecydowanie Anamneseis Taverna, w której jeśli nie zarezerwujemy miejsca, na próżno będziemy go szukać.

W pobliżu Limassol warto zajechać na Półwysep Akrotiri, co jest już rozrywką raczej dla zmotoryzowanych. Dojazd bez samochodu jest praktycznie niemożliwy, pozostaje jedynie liczyć na cypryjską dobroduszność i złapać autostop. W środkowej części półwyspu znajduje się Słone Jezioro. Zimą zlatują się tutaj piękne flamingi, a latem można po wysuszonym jeziorze jeździć – najlepiej quadem. Warto jednak zabrać ze sobą jakiś preparat na komary, bo te grasujące nad jeziorem są wyjątkowo nachalne.

Na półwyspie, 13 kilometrów od Limassol znajduje się też klasztor Św. Mikołaja od Kotów (Agios Nikolaos ton Gaton). Zwiedzający, którzy chcą wejść do budynków, powinni mieć zakryte kolana, o czym łatwo zapomnieć w upały. Zdziwić mogą kręcące się po klasztorze – w ilościach znacznie przekraczających normę – koty. Ich obecność tam nie jest jednak przypadkowa. Zostały przywiezione na Cypr, by polować na węże, czym do dziś wzbudzają szacunek Cypryjczyków.

Kourion to ruiny starożytnego miasta położone nieopodal Limassol. Z dawnej potęgi najlepiej zachowały się starożytny teatr, mozaiki (są w znacznie lepszym stanie niż te w Pafos), część bazyliki, agora, stadion i sanktuarium. Niektóre ruiny są rozrzucone w odległości kilku kilometrów od siebie, więc najlepiej poruszać się tutaj autem. W okolicy warto jechać wolniej lub nawet się zatrzymać, aby zobaczyć plaże w pobliżu Episkopi, w tym Skały Greckie (Petra tou Romiou) – legendarne miejsce urodzenia bogini Afrodyty.

[img="//m6/s4/jd7a8pc8g8cok8gcccks0ogwok0.*kadr*.JPG" alt="Kourion – ruiny starożytnego miasta nieopodal Limassol" width="700" height="480"]

Kourion – ruiny starożytnego miasta niedaleko Pafos. Fot. Ola Klimowicz

Wspinaczka do siedziby bogów

Kiedy już zwiedzimy południowe wybrzeże Cypru, czas ruszać w stronę Gór Troodos. Po zapłaceniu drobnej opłaty przy wejściu, zaczynają się ni to drewniane, ni to kamienne schody. Podróż w dół trwa mniej więcej 15 minut i raczej nie należy do wyczerpujących trekkingów. Mija się las, pokonuje mały strumyczek i rozgania kury, które z niewiadomych przyczyn chodzą pomiędzy drzewami. Na samym dole zarośniętej ścieżki można usiąść na ławeczce lub wykąpać się w jeziorku, do którego z wysokich skał wpada wodospad. Jest naprawdę bardzo uroczo.

Góra Olimp polecana jest we wszystkich przewodnikach, co nie dziwi, jeśli wziąć pod uwagę jej znaczenie w kulturze europejskiej. Wznosi się na wysokość ponad 2900 m n.p.m., jej zbocza porasta bujny las. Szczyt góry może trochę rozczarować – znajdują się na nim słynny radar brytyjskiej bazy wojskowej, przypominający ogromną piłeczkę golfową oraz anteny. Dlatego lepiej zatrzymać się kilkadziesiąt metrów poniżej, gdzie znajduje się punkt widokowy. Takie strefy wojskowe nie są rzadkością na Cyprze, należy więc na nie uważać. Zabronione jest robienie zdjęć, spacerowanie i wolna jazda samochodem. Jeśli zobaczymy na mapie lub na znaku drogowym, że szosa jest zamknięta, powinniśmy się kierować tą informacją. Może nas to uratować przed bardzo nieprzyjemną sytuacją.

Podobno ze szczytu Góry Olimp widać Turcję, osobiście nie widziałam wiele poza morzem i drzewami. Widoki zdecydowanie nie należą do atrakcyjnych. Natomiast dla bardziej aktywnych wczasowiczów jest to idealne miejsce na spacery lub wycieczkę rowerową.

Ten rejon wyspy nie jest aż tak oblegany przez turystów jak wybrzeże i o wiele łatwiej znaleźć tutaj pensjonat z dnia na dzień. W okolicy jest wiele małych, malowniczych miasteczek, do których także można zawitać podczas krótkich wypadów. Warto zajrzeć do klasztoru Kykkos. W arkadach budynku widnieją piękne, kilkumetrowe mozaiki. Mieści się tam też muzeum z ikonami i ceramiką. Stąd już blisko na północ – do Nikozji.

Nikozja – trochę inny Cypr

Przez Nikozję przebiega zielona linia, która już od niespełna 50 lat stanowi największe utrapienie wyspy. Dzieląc Cypr na dwie części – Republikę Cypru zamieszkałą przez Greków oraz Turecką Republikę Cypru jest źródłem nieustannych sporów między Grekami a Turkami. Kilkusetmetrowy pas ziemi niczyjej biegnie także przez stolicę Cypru – Nikozję, która jest miejscem specyficznym i znacznie różniącym się od południowej części wyspy. Wkrótce po odzyskaniu niepodległości krajobraz miasta zdominowały betonowe bloki, mieszkańcy byli tak zafascynowani nowoczesnością, że przestali dbać o stare budynki. Nie spotyka się tutaj wielu turystów, głównie dlatego, że niewiele jest do zobaczenia. Pewnie dlatego w Nikozji panuje inna, mniej przyjazna atmosfera niż na południu. Na wielu budynkach można zobaczyć antytureckie graffiti.

Jest tutaj kilka lokali w, których można dobrze zjeść. Polecam Ayios Yeoryios na Starym Mieście lub Peri Orexeos, gdzie suto najedzą się wegetarianie. Oprócz jedzenia nacieszyć można się basenem przy ulicy Louki Akrita i kilkoma muzeami, w tym Muzeum Archeologii, które w porównaniu do innych na wyspie naprawdę robi wrażenie oraz Muzeum Biżuterii w barwnej dzielnicy Laiki. Warto przejść się też wzdłuż Murów Weneckich, które w przeszłości miały chronić Wenecjan od ataków tureckich i zobaczyć Pomnik Wolności.

Przy pałacu Ledra znajduje się przejście graniczne, gdzie należy okazać paszport, tam też otrzymamy bezpłatną wizę. Lepiej, żeby została wbita na osobnej kartce, a nie w paszporcie. Ta strona miasta jest bardziej zaniedbana niż południowa, ale znajduje się tu sporo ciekawych zabytków. Na Starym Mieście zachowały się budynki gotyckie i osmańskie. Warto zobaczyć Plac Atatürk Meydani, po środku którego stoi kolumna wenecka, która kilka razy była przenoszona, niszczona i naprawiana.

Ciekawy jest też Büyük Han, który dumnie stoi na rogu Kurtbaba i Asmaalti. Wybudowany został podczas panowania osmańskiego, później służył jako więzienie. W pobliżu znajduje się tradycyjny bazar, na którym można zakupić malowidła, rzeźby i ceramikę oraz, co najlepsze, przysmaki północnego Cypru.

Zobaczyć trzeba też Bedestan i Selimiye Camii – dwie najwybitniejsze budowle w północnej Nikozji. Warto pamiętać, że Cypr Północny nie jest oficjalnie uznawanym krajem, więc nie ma tutaj ambasad. Zastępują je ośrodki kulturalne, które często organizują różne imprezy. W razie problemów należy wiedzieć, gdzie znajduje się British Council.

Na północ od Nikozji położona jest Kyrenia, niewielka miejscowość wciśnięta między morze a góry. Znaleźć tam można port i cudowny Zamek św. Hilariona. Droga do niego jest dobrze oznaczona, ale wspinaczka na górę zajmuje ponad godzinę. Przydadzą się tutaj wytrzymałe, wygodne i zakryte buty. Warto się jednak wysilić, bo widok z góry zapiera dech w piersiach. Jest też stare miasto, które jak żadne inne miejsce w Kyrenie nadaje się na spacery. Zjeść można w każdej restauracji przy porcie. Łatwo tutaj o świeżą rybę i inne owoce morza.

Na wschód od Kyrenii leży Farmagusta. Najlepiej przyjechać tutaj w czerwcu, kiedy trwa Festiwal Kultury i Sztuki. W mieście zachowało się wiele starych budynków, w tym meczet Lala Mustafa Paszy. Meczety na Cyprze stanowią architektoniczną ciekawostkę – często otwierano je w starych kościołach, dlatego niespecjalnie dziwią np. gotyckie okna w niektórych z nich. Interesująca ze względu na historyczne komplikacje jest również Varosia.

Dzielnica była kiedyś domem Greków cypryjskich, którzy po najeździe tureckim zdecydowali się na opuszczenie północnej części wyspy, pozostawiając za sobą domy, sklepy i hotele. Dziś do tej prawie doszczętnie zrabowanej dzielnicy zagląda niewiele osób. Przywodzi na myśl miasto widmo, pobyt w nim był dla mnie zarówno ciekawym, jak i przerażającym doświadczeniem. Blisko znajdują się też ruiny Salaminy. Oprócz fanów archeologii, którzy są w stanie spędzić tutaj nawet cały dzień, przyjeżdżają też zwykli turyści, często leniuchujący na pięknej plaży nieopodal wykopalisk.

O Cyprze opowiadać można długo i wiele, jednak najlepszym sposobem jest doświadczenie różnorodności wyspy na własnej skórze. A jest czego doświadczać, bo Cypr to miejsce fascynujące, gdzie przez wieki krzyżowały się różne kultury, czego ślady widać niemalże na każdym kroku. A więc z jednej strony bogata historia, teraźniejszość bywa, że bolesna, bo naznaczona podziałem, z drugiej zaś idealne warunki dla turystów spragnionych wypoczynku pośród śródziemnomorskiej scenerii. Od miłośników plaż przez aktywnych podróżników po artystów i pasjonatów historii – wszyscy wyjadą stąd usatysfakcjonowani. Ja z kolei mam nadzieję, że spędzę tutaj emeryturę sącząc winko na słońcu!

Komu w drogę, temu poradnik!

Jak dotrzeć

Bezpośrednie samoloty z Warszawy nie latają tam zbyt często i trudno znaleźć bilet poniżej 1000 zł Na lotach czarterowych można zaoszczędzić, przy czym skorzystać z nich możemy jedynie w sezonie wakacyjnym. Zwykle oznacza to, że trzeba zamieszkać w kurorcie wypoczynkowym. Sama nie przepadam za wakacjami w ogromnych ośrodkach, więc wolę czasem przepłacić za lot. Zwiedzane wyspy najlepiej rozpocząć od Pafos lub Limassol, co jest o tyle ułatwione, że znajduje się tu lotnisko, na które docierają także loty czarterowe. Łatwo dojechać też autostradą z Larnaki.

Poruszanie się po wyspie

Najlepszym środkiem lokomocji na Cyprze jest samochód. Wypożyczalnie można znaleźć w większych miastach. Niezmotoryzowani mogą mieć problemy z dotarciem do kilku, bardziej niedostępnych miejsc na wyspie. Autobusy nie zawsze jeżdżą zgodnie z rozkładami, z klimatyzacja w nich też bywa różnie. Wypożyczenie auta jest tutaj znaczenie tańsze niż na wschodzie, więc warto zafundować sobie taki luksus. Należy jednak pamiętać, że ruch na Cyprze jest lewostronny tak jak w Anglii. Dla wielu osób może okazać się to trudne.

Kiedy jechać

Prawie cały rok świeci tu słońce, więc na Cypr można wybrać się o każdej porze roku. Najbardziej leniwi podróżnicy mogą nacieszyć się 600-kilometrowym wybrzeżem. Nawet jeśli nie należy się do grona zagorzałych plażowiczów, warto spędzić nad nim przynajmniej dzień. W lipcu i sierpniu woda jest tutaj najcieplejsza, sięga nawet 28 stopni Celsjusza. Podczas prawie 40-stopniowych upałów trudno to jednak docenić. Każdemu przydadzą się japonki czy klapki, bo piasek jest mocno nagrzany, a plaże potrafią mieć nawet 200 metrów szerokości!

Dobre rady

Poza Morzem Śródziemnym, w Pafos można też pomoczyć się w Parku Wodnym Afrodyty. Funkcjonuje on od maja do października. Wejście kosztuje 29 euro dla dorosłych i 16 euro dla dzieci poniżej 11 roku życia. Znajdziemy tu kilka zjeżdżalni, leniwą rzeczkę, brodzik i ogromny basen z falami uruchamianymi co pół godziny. Jeżeli planujemy spędzić tu cały dzień, jedzenie najlepiej zabrać ze sobą, bo w parku nie jest ono ani dobre, ani tanie.

Oprócz aparatu na zwiedzanie po Cyprze warto zabrać czapkę, okulary, krem z filtrem i wodę. Upały, szczególnie w lato potrafią doskwierać nawet mieszkańcom Cypru, nie wspominając o turystach z zimniejszych krajów.